WolfVision highlights from InfoComm 2023
Discover our latest products & system enhancements
Back from the Orlando!
What a fantastic show in Orlando! InfoComm 2023 has been one of our most successful shows ever.
We presented a vast array of both new and enhanced systems and solutions. From the new Cynap Videobar all-in-one meeting room solution, to our unique vSolution COMPOSER dual screen content manager, we demonstrated how our systems deliver maximum performance, efficiency, and ease of use.
Take a closer look at the new product introductions we showcased on our booth.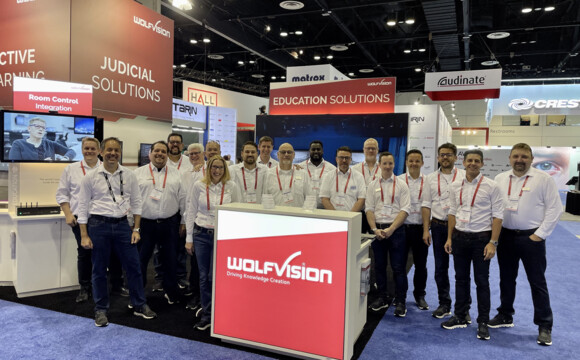 All-in-one meetings with Cynap Videobar
We introduced the new Cynap Videobar at the show. A definite must-see on our booth, it was awarded 'Best of Show' by both AvTechnology and Installation.
The exciting new all-in-one meeting room solution combines Cynap BYOD wireless presentation, and BYOM web conferencing technology, together with a 4K AI camera, beamforming array microphone, plus high-quality speakers from German audio specialists Fohhn. It is ideal for small or medium-sized hybrid meeting rooms and huddle spaces.
vSolution COMPOSER: Unique dual screen controller
Also incredibly popular at the show, our Cynap Pro wireless presentation and collaboration system is now enhanced by new vSolution COMPOSER, a unique drag-and-drop dual screen content controller.
Presenters using twin screens can now easily prepare and preview multi-source content on a connected touch panel, before dragging and dropping it onto either the left or right-hand main display screen.
vSolution MATRIX 2.0: next generation collaborative working & learning
Our award-winning vSolution MATRIX AVoIP-based multi-screen content sharing solution is now extended with a range of amazing new features and functionality. The system uses Cynap Pro / Cynap Core Pro units to stream video/audio between multiple screens, and is ideal for multi-workstation active learning classrooms and multi-screen courtroom setups.
Next generation vSolution MATRIX 2.0 offers greater performance, is easier to use, and supports colour-coded multiple streams allowing support for twin main display screens.
BYOM web meetings made easy!
Available for models, Cynap Pure and above, we showcased BYOM (bring your own meeting) web conferencing functionality, enabling users to host web meetings wirelessly using any conferencing service directly from their own Windows or macOS laptop.
Connecting to a Cynap allows the connected cameras, microphones, and speaker peripherals already installed in the meeting room to be used to dramatically improve hybrid meetings. Other meeting participants can also easily share content into the web conference using any other laptop, smartphone or tablet providing a superb hybrid working and learning experience.
Q-SYS Core integration: Enhancing Cynap's all-in-one capabilities
We were delighted to introduce our Q-SYS User Control Interface(UCI) integration for WolfVision Cynap Pro and Cynap Core Pro systems at the show.
Already a member of the Q-SYS Technology Partner Program, Q-SYS Core solutions enable room control, automation, and remote monitoring to co-exist seamlessly together with our award-winning Cynap wireless presentation and collaboration systems.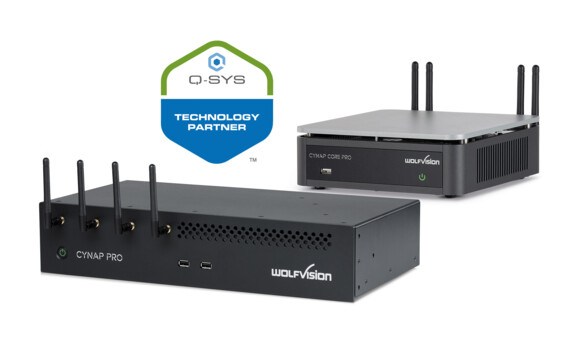 vSolution Link Pro goes cloud!
Already available for Windows Server, Windows desktop, and macOS, our vSolution Link Pro remote management software is also now available for installation on a cloud-based virtual server (Microsoft Azure or AWS).
One of the many highlights on our booth, the new software tools are particularly useful where large numbers of WolfVision Cynap systems need to be managed remotely across multiple locations.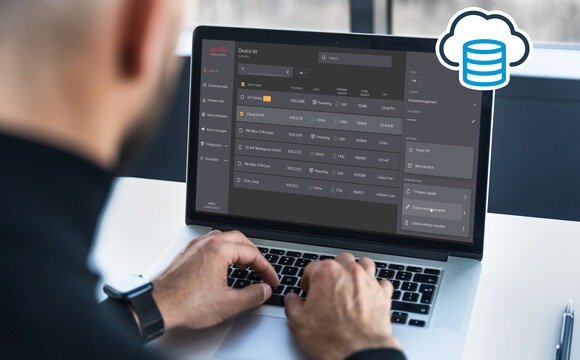 Contact us