vSolution Link Pro
Professional management tools for Visualizer and Cynap systems
vSolution Link Pro software enables management of all vSolution Cynap family and WolfVision Visualizer systems across multiple locations. It includes the following features and functionality:
Setup of local administrators, and assignment of devices
Allocation of tags and location information for convenient device organisation and management
Updating firmware for either single or multiple devices
Rollout of settings to multiple Cynap systems
Backup and restore of Cynap settings
Settings templates can be created for easy backup, restore, and rollout to multiple devices
Monitoring the status of Cynap and Visualizer systems
Export an inventory list of all connected devices as a .csv file.
User interface accessible via any HTML5 internet browser
Available for Windows Server, Windows desktop PC and macOS
For compatibility, Cynap, Cynap Core, and Cynap Pure require firmware version v1.32k (released 17.09.2019) and above.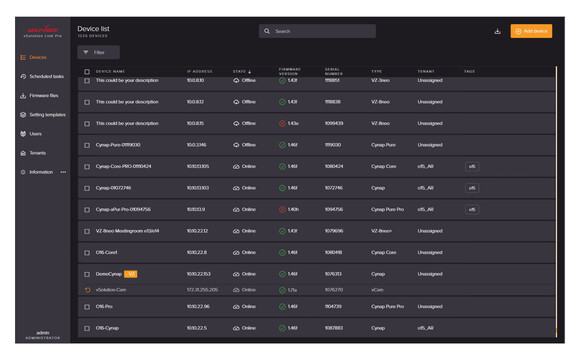 vSolution Link software (Legacy versions)
This legacy version software remains available for customers who require one or more of the following Visualizer features which are not currently available using the newer vSolution Link Pro software:
Save video files from the Visualizer onto a computer via USB and LAN
Remote control the Visualizer using the virtual remote control
Stream Visualizer images/video to the network
Annotation/overlay Visualizer images
vSolution Link for 32-bit Windows
Version 2.13.0.1 (released November 11, 2019):
System requirements: Windows 7, 8.1, 10
Optimized for Visualizers with USB 2.0 port.
Also supports USB 1.1
vSolution Link for 64-bit Windows
Version 2.13.0.1 (released November 11, 2019):
System requirements: Windows 7, 8.1, 10