Cynap firmware update v1.62 / v1.63
New vSolution COMPOSER , new version vSolution MATRIX and more
Simple content handling using twin display screens
The new vSolution COMPOSER feature for Cynap Pro enables easy handling of multi-source content materials when presenting using twin display screens.
Simply drag and drop pre-prepared content onto either the left or right-hand display screen.
Two pieces of content can be displayed side-by-side on each screen, and both screens plus an additional IP camera can be recorded simultaneously, eg. when using Panopto. It's also possible to stream content to additional locations or use for webcasting.
When web conferencing, the remote attendees are shown on the left-hand screen. The right-hand screen displays onscreen content is easily shared with remote participants.
New version vSolution MATRIX for Cynap Pro
The new next generation version of vSolution MATRIX, our popular AVoIP multi-screen collaboration solution, offers enhanced performance, even greater usability, and provides extra functionality for users.
The new 'always on' Room View provides a live view of content on all screens at all times. Now there's no need to keep switching between views.
A second stream enables a second main display screen can be added into the MATRIX setup, utilising all the advantages of the new vSolution COMPOSER feature.
An extra Room View is also now available. This is useful in a courtroom where presentation of evidence is controlled by a court clerk, because a judge can now also have complete visibility of all evidence during both preview and publishing stages to ensure that inadmissable evidence is not shown onscreen.
Outstanding new features for education environments
In education environments, the second Room View is very useful for training staff, and for assisting with room operation when visiting professors are using the collaborative learning space.
Working with twin display screens is now very easy to manage because different colours are used to highlight each stream. A single arrow or double arrow also shows clearly which content is streaming to either screen 1 or screen 2, enabling users who find it difficult to recognise colours easily to identify the different streams without problems.
WolfVision Cynap firmware v1.62 / v1.63 details
Release date: October 25th, 2023
Cynap family firmware is updated regularly. New firmware version v1.63 for Cynap Pro, and v1.62 for all other models (Cynap, Cynap Core, Cynap Core Pro, Cynap Pure Pro, Cynap Pure, Cynap Pure mini, and Cynap Pure Receiver) contain the following improvements:
V1.63c : Cynap Pro only
Added vSolution Composer (dual screen content management)
Support for new version vSolution MATRIX
New improved audio processing
Various bugfixes and system maintenance

V1.62c : All other models (Cynap / Cynap Core Pro / Cynap Core / Cynap Pure / Pure Pro / Cynap Pure Mini / Cynap Pure Receiver)
Various bugfixes and system maintenance

New version v1.9.1 vSolution Link Pro now available
The new version of vSolution LInk Pro, our remote management and administration software contains the following new features and improvements:
Added event log functions for adding and removing devices
Added event log functions for switching state of devices
Added column-based filter for event log and device list
Added savable filters for event log and device list
Added serial number to device information
Added settings template support for Cynap systems with v1.62/1.63 firmware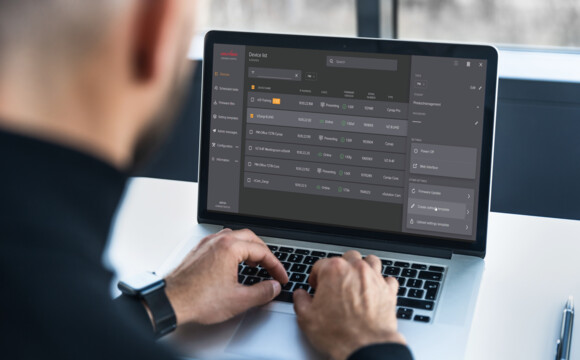 Contact us