Q-SYS Core UCI integration and more
Firmware release v1.60 brings outstanding new features and functionality
Partnering with Q-SYS
Our latest firmware release v1.60 includes the option for Q-SYS Core User Control Interface (UCI) integration for WolfVision Cynap Pro and Cynap Core Pro systems.
We've partnered with Q-SYS to enable their Core room control, automation, and remote monitoring solutions to co-exist seamlessly together with our award-winning Cynap wireless presentation and collaboration systems.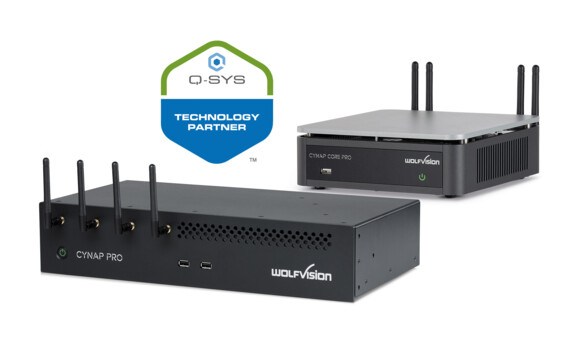 WolfVision Cynap firmware v1.60 details
Release date: July 21st, 2023
Cynap family firmware is updated regularly. New firmware version v1.60 for Cynap Pro, Cynap, Cynap Core, Cynap Core Pro, Cynap Pure Pro, Cynap Pure, Cynap Pure mini, and Cynap Pure Receiver contains the following improvements
Q-SYS Core UCI integration for Cynap Pro and Cynap Core Pro
Whiteboard improvements (Cynap Pure models and above)
AirPlay improvements (All models)
Various bugfixes and improvements
vSolution COMPOSER & vSolution MATRIX 2.0 for Cynap Pro
Both the vSolution COMPOSER feature and the new vSolution MATRIX 2.0 firmware will be available shortly on request as an additional firmware upgrade.

COMPOSER enables presenters using twin screens to prepare and view multi-source content on a connected preview monitor before dragging and dropping it onto either the left or right-hand main display screen. The easy-to-use GUI makes life much easier for presenters in working and learning environments where dual screens are in use.
MATRIX 2.0 extends our award-winning AVoIP multi-workstation content sharing solution with a range of amazing new features and functionality. Extra performance supports additional streams and allows the incorporation of twin main display screens. The upgraded Room View provides significantly improved operation.
Register now and we'll inform you as soon as these exciting new features are available.