8 essentials when choosing Conference Room Technology
We explore eight essential considerations when selecting the ideal AV technology for your conference room.
Introduction
In today's fast-paced business world, effective communication and collaboration are crucial for accurate decision making and overall productivity. Conference room technology plays an important role in enabling seamless communication and collaboration within an organisation.
But how do you choose the right audio visual conference room technology for your business? In this article, we explore eight essential considerations when selecting the ideal conference room technology.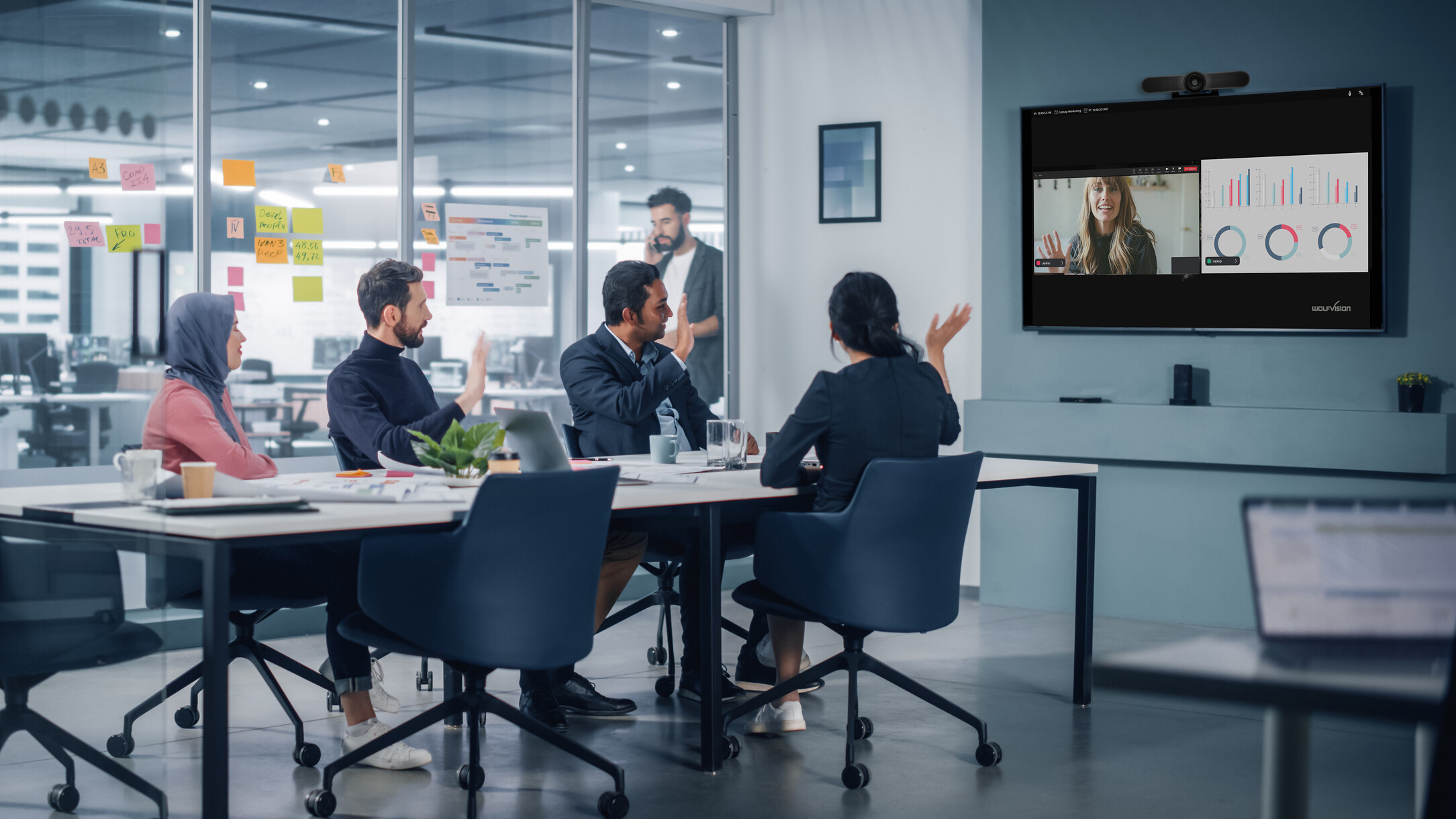 1. Define your needs and goals
Before making a decision on conference room AV equipment, it is important to understand the needs and goals of your organisation. This will help ensure you choose the best option for your specific requirements.
Consider the size of your team, the nature of your meetings, and the level of collaboration required. Do external visitors often attend your meetings?
What devices will meeting participants be using in the room?
Will all meeting colleagues use the same equipment? How will you enable connection for a variety of laptops, smartphones, and tablet PCs.
Usually you will need to create a meeting environment with wireless access for any laptop, smartphone or tablet pc.
Consider carefully how users will be able to interact with your installed conference room AV systems.
Do you hold large video conferences with remote participants, or are your meetings mainly in-person? Defining your needs and goals will help you narrow down the most appropriate technology solutions for your conference room.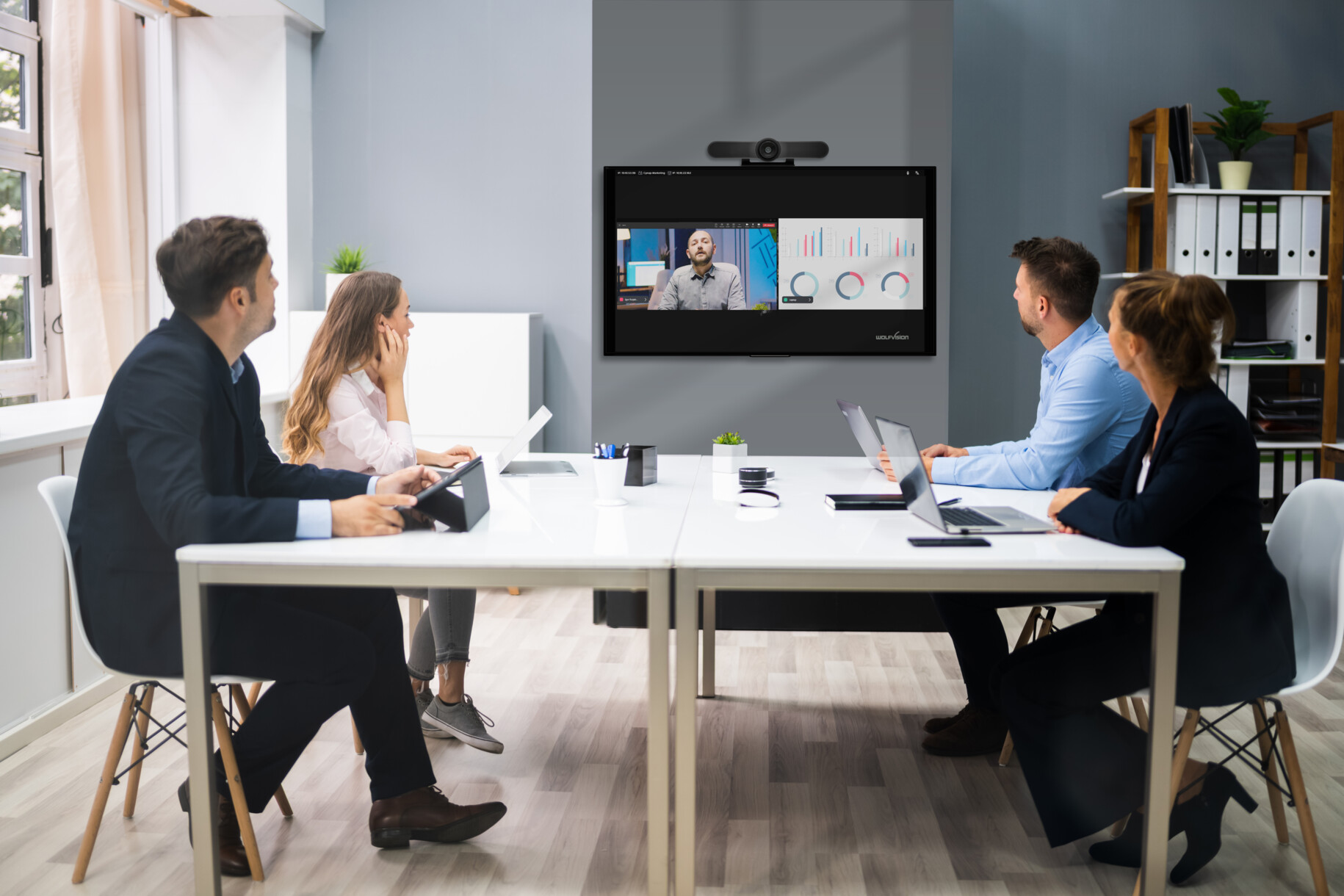 2. Focus on user experience
User experience should be a key part of your decision-making process when selecting conference room technology. The equipment you choose should be intuitive and easy to use for all team members, regardless of their technical expertise. Focusing on user experience not only enhances meeting efficiency and productivity, but also minimises the time spent on troubleshooting and training.
In hybrid meeting environments, consider the remote meeting participants, and their experience of the meeting. Will they be feeling truly part of the meeting, and are they encouraged to actively participate. will you be able to deliver collaboration equity for both in-room and remote attendees?
BYOM (bring your own meeting) technology enables web meetings to be conveniently run wirelessly using a meeting host's own laptop. High-quality video and audio is provided by using the microphone, speakers and camera already installed in the room. Using a personal laptop enables any conferencing service to be used. Familiar workflows when conducting hybrid meetings helps to eliminate any technical challenges.
It is also essential to consider the experience of the other meeting attendees. It's important that the conference room setup makes wireless screen sharing available for everybody. For hybrid working to be effective, all shared onscreen content must be easily shared with remote participants. Currently all vendors are not able to achieve this level of collaboration equity.
3. Ensure Seamless Integration
Selecting conference room technology that integrates seamlessly with your existing systems and infrastructure is essential. Make sure the tools you choose are compatible with your current communication and collaboration platforms.
A system that works well with your email, project management, and file-sharing systems is important. this will enable teams to easily access and share documents, presentations, and other resources before, during, and after meetings.
Check carefully if AV equipment is compatible so that it will run smoothly. Wireless presentation systems, microphones, speakers, and cameras must all combine to provide a comfortable working environment. Disruptions due to technology issues must be avoided. Consider the personal devices also be brought into the meeting space.
Do you want to make wireless access available for everybody?
In modern conference rooms, an HDMI cable connection can be useful if a meeting attendee is unable to connect wirelessly.
Do you have sufficient options to incorporate other peripherals such as a blu-ray player, document camera, digital whiteboard, etc.?
How will the room control elements be handled. Is a separate standalone room management system necessary? Or is there an 'all-in-one system' available that can combine wireless collaboration and room control functionality.
Conference room technology trends advocate AV systems that can be easily controlled. Ideally this is either by using a single touch panel display or the main room display.
4. Consider Video and Audio Quality
High-quality video and audio are crucial elements of effective communication in conference room settings. When evaluating conference room technology, pay close attention to the video resolution, frame rate, and audio clarity.
Choose solutions that provide at least Full HD video quality and crystal-clear audio. Teams must be able to focus on the discussion without getting distracted by technical hiccups.
All-in-one videobars are an attractive solution because they help to ensure that everything works well together. But check on the quality of the components. For example, a company that is expert in camera technology, might not be very knowledgeable about sound. A company well-known for video conferencing capability, might not have the technical knowledge to provide excellent wireless presentation technology.
Audio and video quality are essential for successful meetings. They are important for those participating in person, as well as those joining remotely.
5. Evaluate Scalability and Flexibility
As your business grows, your conference room technology needs to grow with it. Maybe you have rooms of varying size where the same level of AV equipment is not always necessary.
Choose solutions that are scalable and can accommodate changes in team size, meeting formats, and technology advancements. Some companies offer a range of meeting room products. Look for products that suit rooms of differing sizes, and that have a standardised user interface. It's important that all rooms can be operated in the same way, or you will introduce technical challenges.
Flexible solutions are also available that can adapt to different room configurations. Sometimes divisible meeting rooms are a requirement for conference room design. These flexible layouts help to ensure that meeting spaces for your organisation remain relevant and useful in the future.
6. Emphasize Security and Privacy
The subject of security is of paramount importance when considering the functionality of wireless presentation and collaboration systems. It is absolutely essential to take proper steps to ensure the secure operation of equipment in its intended environment.
Information on available security measures is generally provided both as documentation, and also through personal consultation. This helps to provide vital knowledge and support for integrators and administrators on how to securely set up systems. Select a reseller who has successfully completed a relevant certification programme.
Encryption is important in keeping two-way signals between devices and access points secure. It's important to use the best encryption available.
Select a system that supports multiple networks. Set up a guest network if you want to allow visitors to your organisation to use the system. This enables you to restrict access to your corporate network.
Decide carefully how you will manage and maintain your systems. Use of remote management software is highly beneficial, especially where multiple systems are installe across multiple locations.
Systems that offer regular firmware updates help to keep your infrastructure up-to-date.
Decide how the system will be used and configure it accordingly. Enhance security by switching off any unnecessary features. Depending on your system, this could include streaming, recording, or individual screen mirroring protocols that could be disabled if not required.
Select equipment from manufacturers that conduct in-depth penetration testing on their conference room systems. Test results are important and used to upgrade and improve the security performance of devices.
7. Evaluate Cost and Return on Investment
Investing in conference room technology can be a significant expense. It's important to consider the long-term return on investment (ROI).
Look for solutions that offer a good balance between cost and performance. Be sure to consider any ongoing maintenance or recurring subscription fees. It's also crucial that you invest in a system that is easy to use. Rapid adoption by staff combined with reduced training or maintenance requirements all help to add value to your chosen system.
Evaluate the costs and potential return on investment (ROI) carefully. This will help you make a decision that is both budget-friendly and aligned with your goals.
8. Test and Review
Before making a final decision, it's essential to test the conference room technology solutions you're considering. This allows you to assess how well they meet your needs. It also enables you to identify any potential issues.
Consulting with team members is beneficial. It allows for feedback to be gathered before making a decision. This helps to ensure the technology being chosen is appropriate for your individual needs.
Conclusion
Choosing the right conference room technology is a critical decision that can significantly impact your company's communication and collaboration capabilities.
Meetings remain crucial for decision-making and fostering a strong organisational culture. They facilitate effective team communication, collaboration, creativity, and innovation. It is now vital to determine how to enhance your company's meetings, making them more efficient and productive.
Work in the future will be hybrid. More and more people will be working from a wider range of locations than ever before. The task of achieving collaboration equity will be difficult for many organisations. The audio visual technology selected for conference rooms is key to meeting this goal.
Contact WolfVision!
WolfVision offers a range of remote manageable, wireless presentation, web conferencing and collaboration systems, suitable for conference rooms of any size.
Our Cynap systems enable work colleagues to attend meetings either remotely or in-person, without sacrificing collaboration capability.
Contact us now to explore how your team can benefit from WolfVision solutions!
Contact