Hybrid conference rooms & meeting spaces
Facing the challenges of Covid-19 and beyond
WolfVision Cynap solutions: Supporting the changing workplace
In a changing world, where many of us are now increasingly working remotely, using laptops, smartphones and tablets, our meeting spaces need to offer collaboration technology which is secure and easy to use, and which can be used seamlessly with all laptops and mobile devices, providing a consistent user experience for both in-person and remote meeting participants.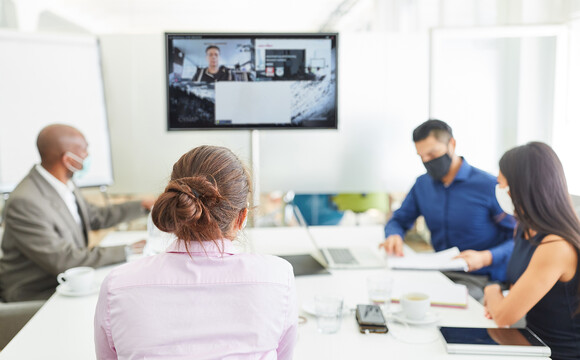 Bringing your own meeting!
For a completely 'touchless' in-person meeting experience simply launch your Zoom, Microsoft Teams, or Cisco Webex or other WebRTC meeting directly from your own laptop, smartphone or tablet.
Web conferencing runs natively on your Cynap system in contrast to some alternative solutions, you can forget about any connectivity, bandwidth or latency issues.
You can also use Cynap's award-winning, easy-to-use, user interface to share any multi-source, multi-window content material on-screen during online sessions - with both in-room and remote attendees.
No apps, no dongles, no cables
Some solutions require the use of a combination of apps, dongles, and additional software in the meeting room. Only WolfVision offers a true hassle-free app-free, dongle-free, meeting environment, where all laptops, smartphones and tablets can connect and then mirror content to a central screen, sharing materials also seamlessly with meeting attendees joining via Zoom, Microsoft Teams, or WebRTC-based platforms.
Innovation in collaboration
Working together is easier than ever before using the built-in annotation, whiteboard, web browser, and media player functions, and the Microsoft Teams integration means files are easy to access, work on and share with colleagues at all times. Create new content by marking up any open window, and save your content by taking a snapshot.
In the new hybrid world, Cynap solutions provide a consistent collaborative experience for both in-room and remote meeting participants.
Contact us!
Let's explore how WolfVision solutions could meet your own specific hybrid or regular meeting room requirements.