Streamlining administration
Convenient remote management of all Cynap family and Visualizer systems
Products used
Remote admin made easy!
Our vSolution Link Pro software is available free of charge and without recurring license fees. It enables management of all vSolution Cynap family and WolfVision Visualizer systems across multiple locations. The software is available for Windows Server, Windows Desktop, and macOS.
Additionally, Cynap systems can also be administered using a version for cloud-based virtual server (Microsoft Azure or AWS). Securely accessible from any location, vSolution Link Pro is an essential tool, especially useful where large numbers of WolfVision systems need to be managed remotely.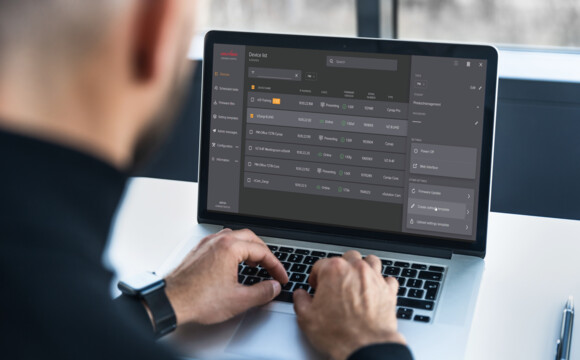 All the tools you need!
vSolution Link Pro enables the following:
Setup of local administrators, and assignment of devices
Allocation of tags and location information for convenient device organisation and management
Updating firmware for either single or multiple devices
Rollout of settings to multiple Cynap systems
Backup and restore of Cynap settings
Creation of settings templates for easy backup, restore, and rollout to multiple devices
Monitoring the status of Cynap and Visualizer systems
Export of an inventory list of all connected devices