Live imaging for in-person, online and hybrid learning
For consistent learning experiences - wherever you are!
Products used
High-performance document camera imaging systems
WolfVision imaging systems are used daily in many of the world's leading universities, companies, and judicial institutions. Universities such as Oxford, Cambridge, Harvard, University College London, and many more are valued customers of WolfVision, and well-known organisations such as Google, Microsoft, NASA, The United States Supreme Court, and many others, use WolfVision systems in their meeting and training spaces to enhance presentation and collaboration.
With hybrid working and learning now the norm for many organisations, we're using Zoom, Microsoft Teams and other web conferencing services for making far more online presentations than ever before. There's never been a better time to put a WolfVision Visualizer to good use, for the onscreen display of 'live' content materials for in-classroom, online and hybrid learning, meeting room and courtroom usage.
Capture handwriting using your document camera!
Using a WolfVision Visualizer with a dry-erase working surface makes it easy to get your handwritten content materials up onto the big screen for everybody to see.
There's no need to turn your back on the class to write on a whiteboard, and if you are using a lecture capture solution such as Panopto, Echo360, or Kaltura, your notes can also easily be captured as part of the recorded lecture content.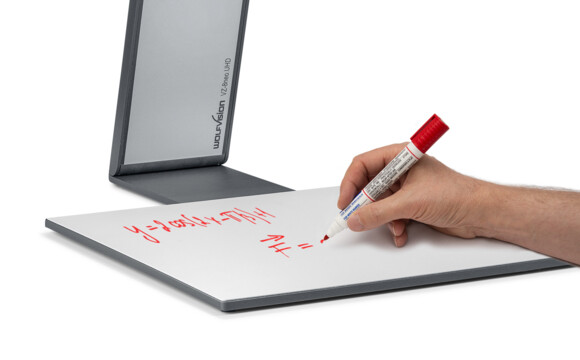 The world's first document camera
Our founder Josef Wolf designed the world's first prototype document camera system back in 1974 - a custom-built Visualizer which combined a pair of desk lamps together with a specially designed working surface.
These early units were continuously developed until the introduction of the first serial production document camera in 1988. Today, WolfVision is known throughout the world as the leader in development and manufacture of high-performance document cameras, used in classrooms, meeting rooms, and courtrooms worldwide.