Evidence Presentation systems: Designing hybrid courtrooms
The rapid shift to virtual courts has meant that evidence presentation systems now require to operate far more flexibly.
Effective presentation of evidence
The way evidence is presented can have a big impact on the outcome of a court case. When presented effectively, evidence can be very useful in convincing a judge or jury to make a decision that is in your favour.
Physical objects are commonly presented, but in the modern courtroom, digital files are also often used. Attorneys now have access to a wide variety of tools that allow them to present evidence in a memorable way that is easy to understand.
Evidence often needs to be displayed wirelessly from smartphones, laptops, tablets, and other devices such as DVD players, video recorders, etc., may need to be available in the courtroom.
The rapid shift to virtual courts has meant that evidence presentation systems now require to operate far more flexibly. Displayed evidence must be viewable on-screen in a consistent way for both in-room and remote court attendees.
When introducing technology into a courtroom, it should not be so difficult to use that the equipment itself prevents the smooth running of the court process. The integrity of the judicial process must be maintained.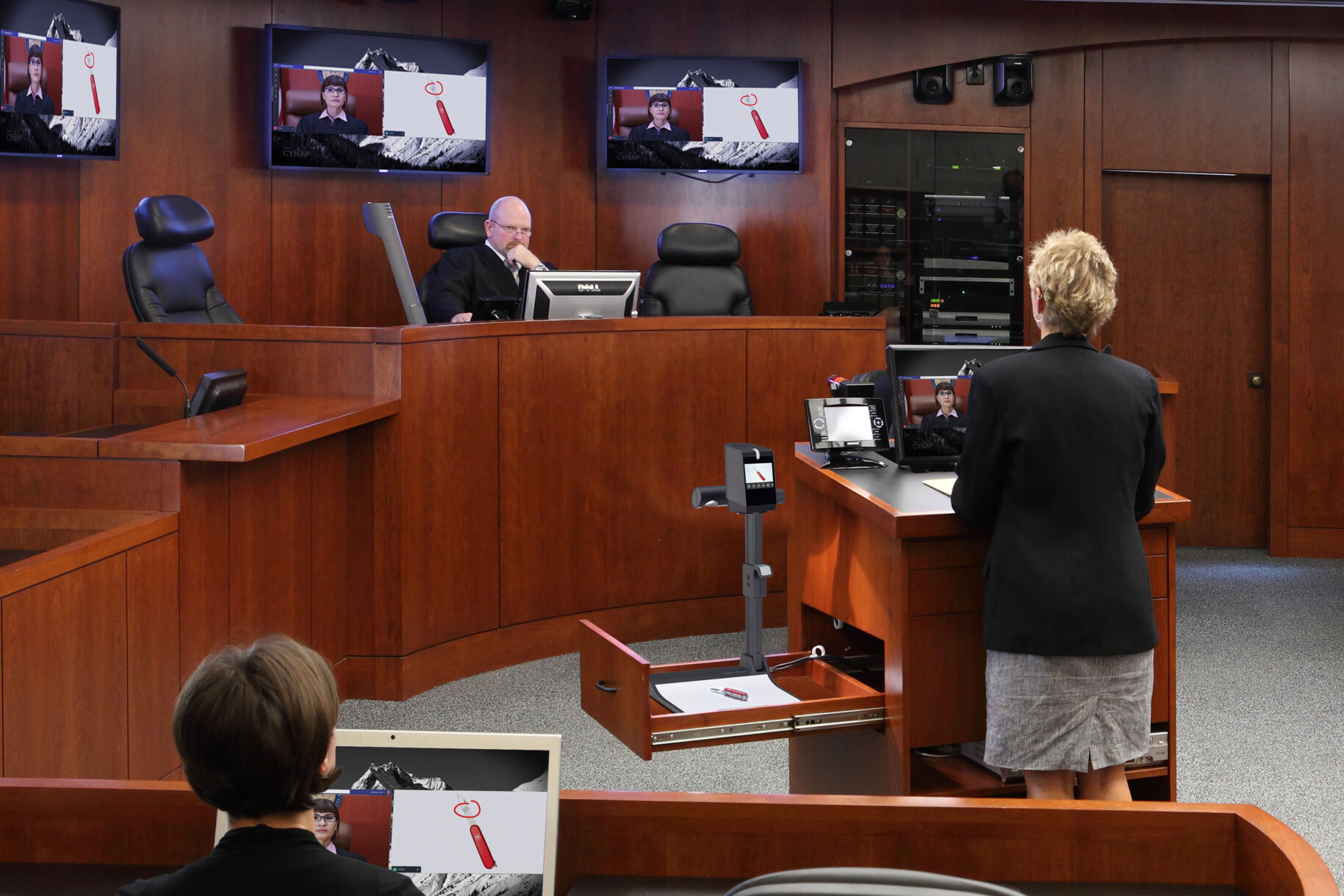 1. A complete end-to-end solution
Decide how you want to bring your content into the overall courtroom solution, and which types of media you want to accept - and from which devices. An effective end-to-end evidence presentation streamlines the inputs and outputs of your displayed content materials, and interfaces easily with other recording, streaming, audio, and case management systems.
Some 'all-in-one' solutions such as the Cynap range from WolfVision incorporate many of these capabilities into a single box. This means you need less equipment, and benefit from cost savings, and a reduction in admin and maintenance requirements.
2. Make it easy to use
Whatever system is chosen to handle presentation of evidence, it should be extremely easy to use. You must avoid any risk of interruption to court proceedings due to somebody not being able to operate the equipment.
There are also considerations about types of evidence, whether the focus is on digital files, or whether physical materials such as documents, objects, maps, diagrams etc. need to be included.
Not everybody wants to use a laptop, so you also need to be able to display files wirelessly from all types of smartphone and tablet. It's really beneficial if you don't need users to install extra software or attach a dongle to their device before they can access the court presentation system.
WolfVision offers a range of wireless presentation and collaboration systems that work together with its award-winning document camera product line. This helps to provide a 'best-of-both-worlds' solution, that enables all physical and digital evidence to be easily displayed in courtroom environments.
3. Use technology to improve processes
Using technology improves the options to display digital evidence on-screen, and with careful design, the integrity of the court process can be preserved. For example:
Moderation of content. Systems such as a WolfVision Cynap allow creation of groups which enable content to be sent to specific screens. This means a judge is able to view submitted evidence first, before deciding whether to release it for viewing by courtroom participants. This applies whether attendees are physically present in the court, or are joining the court hearing remotely via web conference
Digital annotation over a map or other materials is also useful. A system such as WolfVision Cynap enables a judge to authorise annotation functionality at the witness stand as required.
Systems should interface together so that the end-to-end workflow takes account of recording and storage of submitted evidence.
4. Digital and physical evidence
Maximum flexibility is provided by allowing presentation of both physical and digital evidence in the courtroom.
Cynap solutions are powerful wireless presentation, web conferencing and collaboration systems, providing wireless screen sharing for all iOS, Android, Windows, macOS, and Chrome OS devices. They also provide a unique set of web conferencing and collaboration tools. This all-in-one, AV appliances can be switched easily to handle the demands of in-person, remote and hybrid court proceedings as required.
Physical evidence placed directly under a WolfVision document camera and enlarged on-screen for both in-room and remote participants to see, helps attorneys to create powerful arguments.
5. Efficient workflows in the hybrid courtroom
The global Covid-19 pandemic has resulted in dramatic shifts in the way justice is delivered in courtrooms, and there has been a significant rise in the use of technologies supporting hybrid courtroom environments.
Hearings, arraignments, and trials that were already allowing remote court attendance are now helping to reduce backlogs, and deliver cost savings. The prime concern is still how to incorporate technology enabling remote hearings while still retaining the basic principles of the justice system.
6. Consistent on-screen experience
Successfully adding web conferencing technology into a courtroom is essential for its success as a hybrid judicial environment. Remote court participants should enjoy the exact same on-screen viewing experience as those physically present in the courtroom.
The WolfVision Cynap system allows all evidence to be shown in court, whether attendees are physically in the room, or joining remotely via video conference.
This consistent presentation of evidence is what makes WolfVision systems unique. The goal being to ensure that court processes can continue to operate using hybrid modality without needing to make compromises on the quality and range of presented evidence.
Get in touch
WolfVision is a leading manufacturer of wireless presentation, web conferencing, collaboration, and document camera solutions. Our award-winning Cynap and Visualizer systems are used in education, business and judicial applications, supporting in-person, remote, and hybrid working and learning environments of all types.
Get in touch to learn more about how WolfVision solutions can be used to improve display and handling of evidence in your hybrid courtroom environments.
Contact us