Active Learning Classroom AV technology in Higher Education
How AV technology is shaping active learning spaces in higher education institutions.
Introduction
Higher education is undergoing a profound transformation, driven largely by a pedagogical shift towards active learning – a teaching methodology that promotes interaction, collaboration, and engagement among students.
A key part of this transformation is the integration of advanced audiovisual (AV) technology into classrooms, which helps to create dynamic learning environments conducive to active learning.
In this article, we delve into how AV technology is shaping active learning spaces in higher education institutions.
Understanding Active Learning Spaces
Traditionally, classrooms have been spaces where teachers disseminate knowledge from the front of the class, and students passively absorb the information.
However, as educators increasingly recognize the benefits of active learning – increased student engagement, improved retention, and higher academic performance – the dynamics of classroom design are changing rapidly.
Active learning classrooms (ALC), sometimes known as Technology Enhanced Active Learning (TEAL) classrooms are flexible environments that encourage collaboration, interaction, problem solving, and student-centered learning. They are also not limited to formal classrooms alone. They can be extended to more informal settings such as libraries and student centers, transforming them into hubs of collaborative learning.
WolfVision, a leading provider of AV solutions, offers a range of technologies that effectively support active learning. Its Cynap range of wireless presentation, web conferencing and collaboration systems, first introduced in 2015 are often used to construct easy-to-use multi-workstation, multi-screen wireless learning environments that help to encourage students to participate actively in the classroom.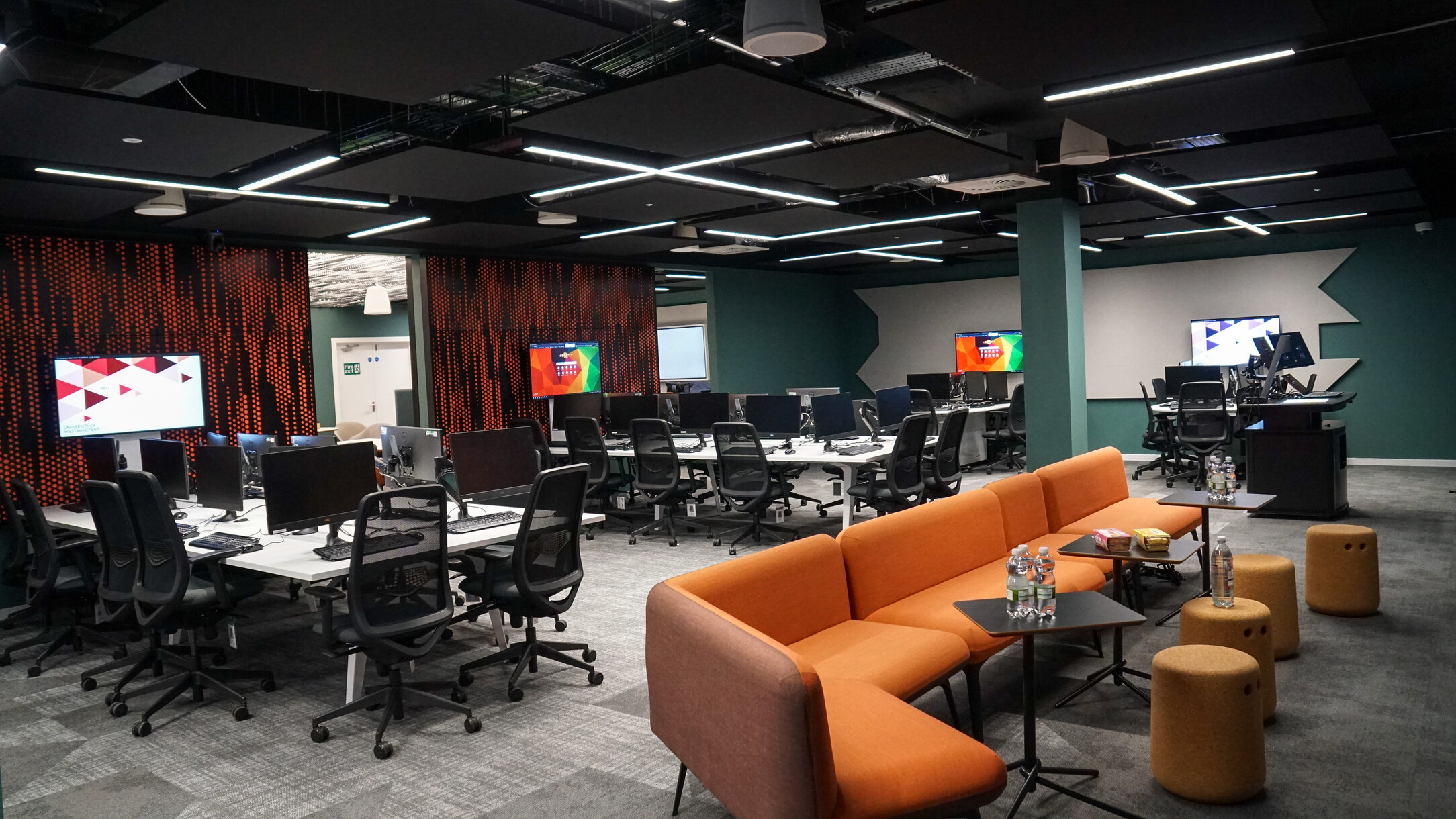 Role of AV Technology in Active Learning Spaces
The transformation of traditional classrooms into active learning spaces is a multifaceted process that involves a shift in pedagogical approaches, a reconfiguration of physical spaces, and the integration of technology. In particular, AV technology plays a pivotal role in facilitating active learning by enabling seamless communication, collaboration, and content sharing.
Projectors and Screens: These are fundamental tools for sharing visual content in large spaces. Modern projectors can display high-resolution images and videos, and some even have interactive capabilities.
Document Cameras: These devices project printed materials, 3D objects, or microscopic elements onto a large screen, enhancing students' understanding of complex concepts. WolfVision is the company that invented the document camera, and its range of models are standard issue in many of the world's leading universities, colleges and other educational institutions.
Wireless Presentation Systems allow students to share content from their devices wirelessly to a main screen, encouraging participation and interaction. When multiple units are combined using AVoIP technology, the possibilities for onscreen content sharing between multiple screens are dramatically increased. WolfVision Cynap systems provide educators with powerful tools to manage content, facilitate interaction, and create dynamic presentations that enhance the classroom experience.
Classroom Audio Systems: High-quality speakers and microphones are vital, and ensure all students can clearly hear the teacher's instruction, and each other during discussions, which is essential in large classroom environments.
Video Conferencing Systems / web conferencing: These systems, such as Zoom Rooms or Microsoft Teams Rooms, enable remote learning and collaboration with students or experts from around the world.
Digital Signage: This can be used to provide important announcements, display student work, or present additional learning materials.
Learning Management System (LMS) Integration: AV tech can often integrate with LMS platforms (like Canvas, Blackboard or Echo360), allowing teachers to make recordings of lectures or other digital materials available for on-demand viewing. This helps students to work at their own pace.
Collaborative Software: Technologies like Google Workspace or Microsoft 365 allow students to work together in real time on documents, presentations, or spreadsheets. These platforms can be displayed on screens in the active learning space to facilitate group work.
Virtual Reality (VR) and Augmented Reality (AR): While still emerging, these immersive technologies can provide students with hands-on, interactive experiences, from exploring human anatomy to walking through historical events.
These are just a few examples of how AV technology can support and enhance active learning spaces. The key is to select and implement technologies that align with the learning objectives and pedagogical approaches of each individual classroom or institution.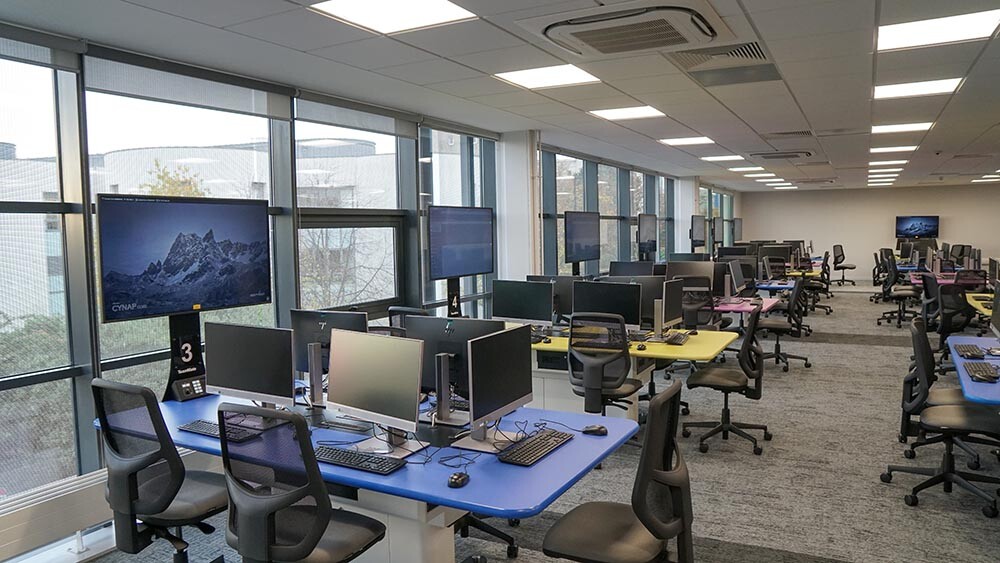 Active Learning Classrooms: Design Considerations
Creating effective active learning spaces requires a thoughtful design process that considers the needs of students and educators, the physical layout of the space, and the technological infrastructure. The design should promote interaction and collaboration, allowing students to work together and learn from each other.
To accommodate a variety of teaching and learning styles, active learning spaces should be flexible, capable of supporting different configurations. Additionally, the design should consider the acoustics, lighting, and furniture, all of which can influence the learning experience.
From a technological perspective, these learning environments should provide a robust and flexible AV infrastructure for both students and teachers, that supports a variety of devices and allows for easy content sharing. Users expect to be able to use a laptop, smartphone or tablet of any type in the room, and to be able to connect easily to in-room AV equipment.
WolfVision's Cynap systems exemplify this by offering a platform for wireless presentation and collaboration, compatible with any device. This BYOD (Bring Your Own Device) approach encourages students to use their own devices for learning, helping to foster a more personalized and engaging learning experience.
Web conferencing technology is also an important consideration in order to enable extension of the physical classroom to include remote students. For this it is paramount that careful consideration is given to achieving collaborative equity, ie. providing a similar collaboration experience for both in-room and online students. Key questions to consider include:
What platform(s) will be used
How easy is it to connect?
Can in-room content onscreen be shared with remote participants, so that they see exactly the same materials as that seen by those in the room.
How will you deploy high-quality audio
Is there a straightforward way to connect to join/host a web conference regardless of which personal device is being used.
Is the intention to restrict hybrid learning sessions to a single web conferencing platform such as Microsoft Teams, or Zoom? If not will your chosen solution provide a consistent collaborative experience regardless of the conferencing service being used?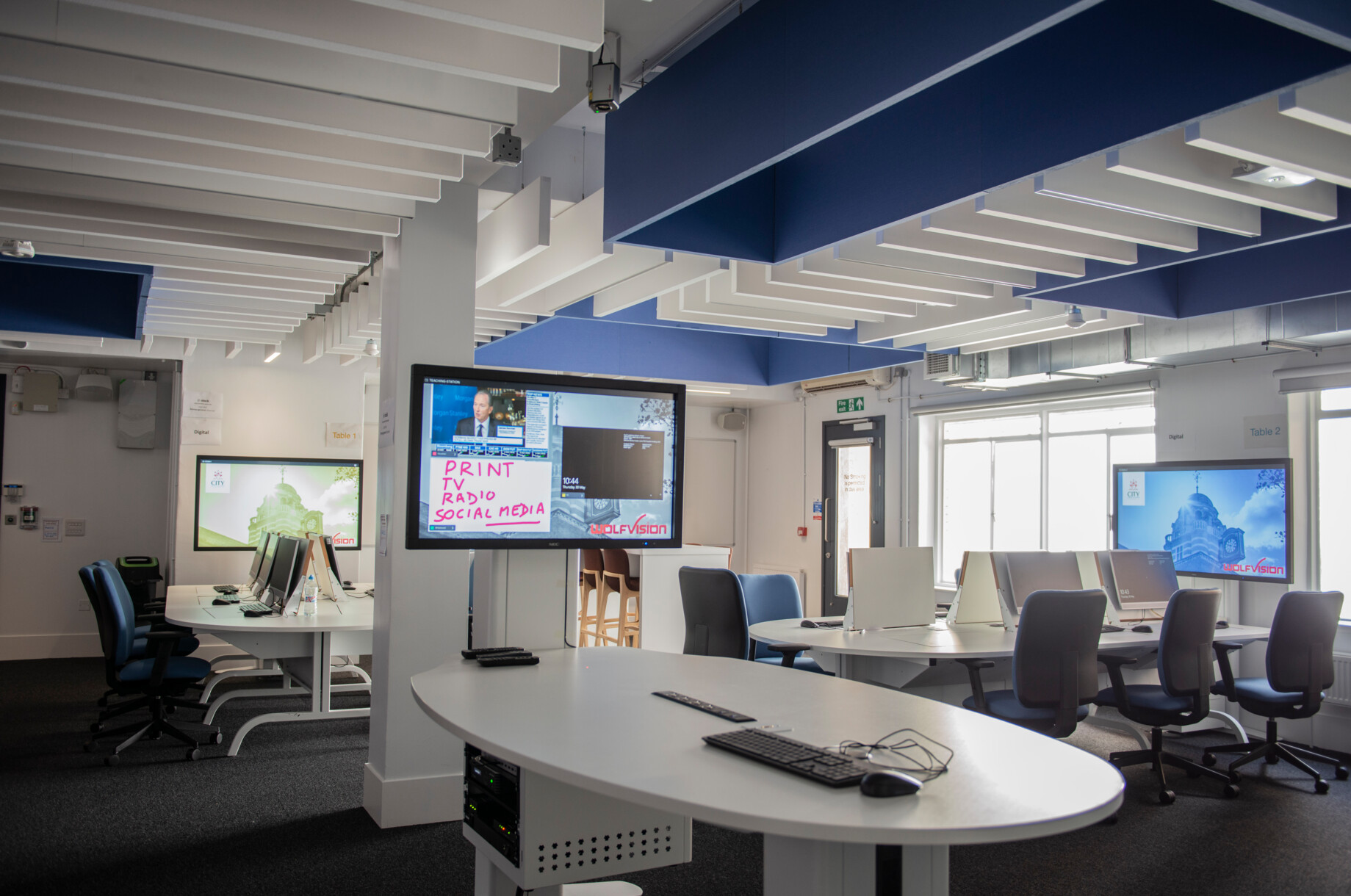 Classroom technology: Ease of Use & Faculty Adoption
While the integration of AV technology in active learning spaces provides numerous benefits, it also presents challenges. One of the primary concerns is the potential complexity of the technology, which can deter faculty adoption. AV solutions must be designed with user-friendliness as a high priority:
Simple wireless connection for all laptops, smartphones and tablets
Standardized connection workflows
Simple drag-and-drop environment for moving multiple pieces of content between different screens
An easy way to gain an overview of what is on every screen in the room at any time
If twin main display screens are used, a clear way to manage them must be used, for example different colours or markings for different displays.
Simple to use technology allows educators to focus on teaching rather than managing the technology.
An integrated way for educators to share files quickly and easily with students seated at multiple workstations offers a distinct advantage. It enables clear instructions to be issued at the start of classes, and streamlines the educator's ability to switch between the roles of teacher (at the front of the class), and that of 'coach' when moving around the room.
The training and support for faculty are also critical to ensure they are comfortable with the technology and can utilize it effectively to enhance teaching and learning.
Dual Screen Setups & Enhanced Collaboration
An essential component of active learning spaces is the ability to display multiple sources of information concurrently. Dual screen setups enable this, enhancing the learning experience by allowing side-by-side comparisons and simultaneous viewing of different perspectives on a topic.
WolfVision's vSolution COMPOSER feature on Cynap Pro offers a robust solution for managing multiple sources of content in a dual screen setup. It provides drag and drop simplicity when handling multi-source materials and placing them on the required display screen.
Colleges and universities planning dual screen setups should definitely consider this latest technology from WolfVision, which helps to create dynamic, multimedia presentations that engage both students and teachers and help to facilitate deeper understanding.
Conclusion
Active learning, supported by advanced AV technology, represents the future of education. By creating dynamic, collaborative, and tech-enhanced learning spaces, institutions can significantly enhance the quality of education, fostering an environment that not only imparts knowledge but also nurtures critical thinking, creativity, and collaboration.
In this regard, the solutions offered by WolfVision provide a compelling blueprint for how AV technology can be effectively integrated into active learning spaces.
As we continue to navigate the evolving landscape of higher education, the role of AV technology in facilitating active learning will undoubtedly become increasingly prominent.
WolfVision
At WolfVision, we manufacture high-quality, easy-to-use AV technology solutions that support higher education active learning spaces. Our vSolution MATRIX multi-workstation AVoIP collaboration solutions are used daily by many thousands of students worldwide. Our document camera systems are well-known for their unrivalled picture quality, ease of use, and robust construction. They are used in thousands of university classrooms throughout the world.
Contact us to explore how WolfVision systems and solutions could help to support your active learning classroom environments.
Contact us