教育
対面、オンラインおよびハイブリッド授業のためのデジタルおよびアナログコンテンツの高性能スクリーン表示。
対面授業、オンライン授業モデルのためのフレキシブルな映像表示。
ヴォルフビジョンのビジュアライザーシステムは非常に使いやすく、世界中の大学やその他の教育機関で使用されており、対面とオンライン学習環境の両方で学生とコミュニケーションと有意義なつながりを築くための教師のスキルと努力をサポートします。
ネットワークAVによる教室コラボレーションソリューション
vSolutionMATRIXネットワークコラボレーションソリューションなどの革新的なAVover IPテクノロジーを使って、新しく刺激的なハイテク学習環境が構築されています。
この費用対効果の高いソリューションは、複数のCynapシステムを使って、学生と教師の両方があらゆるソースから、中でもスマートフォン、タブレットやノートパソコンから、ワイヤレスであらゆるタイプのデジタル情報にアクセスし、協働して取り組み、共有できるフレキシブルなアクティブラーニングスペースを創造します。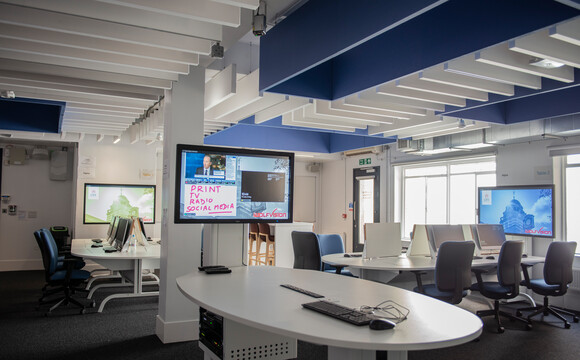 ケーススタディ
世界中の主要な教育機関に導入されているビジュアライザーシステムおよびCynapシステムに関するケーススタディをご覧ください。
illwerke vkw energy campus montafon, Austria
VZ-8.UHD live imaging for new training centre
University of Westminster
Collaborative learning spaces using Cynap and vSolution MATRIX
HSPV NRW, North Rhine-Westphalia, Germany
State-of-the art learning spaces
Loughborough University
In-person, remote, and hybrid learning using WolfVision systems
Meiji University, Tokyo, Japan
ウォルフビジョンのビジュアライザーシステム。講義室での一流のイメージング
ロンドン大学シティ校, 英国
ジャーナリズム学科 vSolution MATRIX導入事例
Tokyo Keizai University
東京経済大学 様:VZ-3neo – 教卓スペースの機能的活用
University of Dundee, Scotland
ダンディー大学, スコットランド
Nagoya University of Arts & Sciences (NUAS) Case study
名古屋学芸大学: Cynapとビジュアライザーを活用した柔軟な学習
University of Nevada, Las Vegas
High performance imaging in the classroom
University of Edinburgh
VZ-C6 Visualizers in use during online and hybrid learning classes
University of Westminster
Synchronous hybrid learning environments using Cynap systems
University of Glasgow
Live imaging with an EYE-14 camera during online classes
University of Oslo
Future-oriented learning at the Faculty of Law
London Business School
Impressive vSolution MATRIX active learning classroom installation
Okayama University
Using Cynap systems for high performance multimedia streaming & recording
University of California, Santa Cruz
WolfVision Visualizers play key role in every classroom
University of Tennessee, Knoxville
Cynap systems transform classroom learning environments
Staffordshire University
Flexible teaching in active learning classroom with Cynap
University of Siegen
VZ-C6 Ceiling Visualizer: Successful live imaging
San Diego State University (SDSU)
High quality imaging in the classroom
BI Norwegian Business School
Visualizer systems - Built to last!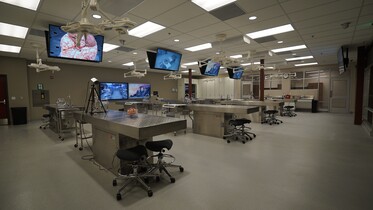 Idaho State University
EYE-14 Cameras at Meridian Health Science Center
Kuwait University: Sabah Al-Salem University City
Essential Visualizer imaging in the classroom
NUST (MISIS), Moscow, Russia
Cynap: The Centrepiece of the modern meeting room
Penn State University
VZ-C6 Ceiling Visualizer enables careful study of rare and fragile items.
University of Warwick
WolfVision Visualizers: Essential imaging in all classrooms
Washington State University
Active learning classroom using Cynap
University of Idaho
Collaborative learning with VZ-C6 and Cynap.
Heriot-Watt University
VZ-9.4 Visualizer systems take centre stage
EMSD Hong Kong
Cynap plays key role in state-of-the-art learning spaces
お客さまの声
What we have found, is that regardless of the size of the learning space the Cynap systems allow the student to become a real part of the class, not just a passive viewer.
Michael Berger
IT Manager, Office of Information Technology, University of Tennessee, Knoxville
Wolfvision is a small company. But they are serious, and deliver world leading products. They listen to their customers and when necessary, are able to make adjustments very quickly.
Tor-Arne Tømte
Senior Operations Specialist, BI Norwegian Business School
I do believe that WolfVision Visualizer Systems add real pedagogic value, and they have the flexibility to perform equally well, whether installed as a central component of a classroom AV solution, or as a highly portable, all-in-one stand-alone system.
Douglas Marsland
Head of Audiovisual Services, Heriot-Watt University
送信