Didattica
Visualizzazione altamente performante di lezioni digitali e analogiche proiettate su schermo, per l'apprendimento in aula, online e ibrido.
Imaging flessibile per l'apprendimento sia in aula che online
I sistemi Visualizer WolfVision sono straordinariamente facili da usare. Sono usati quotidianamente nelle università e negli istituti d'istruzione di tutto il mondo, fornendo supporto alle competenze e all'impegno del personale docente per la comunicazione e connettendo efficacemente gli studenti sia in aula che negli ambienti di apprendimento online.
Soluzioni di collaborazione per aule AV collegate in rete
Sono stati creati nuovi e avvincenti ambienti di apprendimento high tech utilizzando tecnologie innovative AV over IP quali la nostra soluzione di collaborazione per aule AV collegate in rete vSolution MATRIX.
Questa soluzione economica utilizza sistemi Cynap multipli per creare spazi flessibili di apprendimento attivo dove sia gli studenti che i docenti possono accedere, collaborare e condividere informazioni digitali di qualsiasi sorgente, soprattutto tramite wireless, dagli smartphone, tablet e computer portatili personali.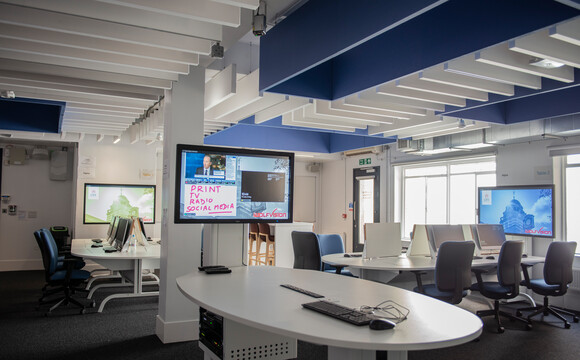 Esempi pratici
Date uno sguardo ai nostri esempi pratici dedicati ai nostri sistemi Visualizer e soluzioni wireless di presentazione e collaborazione Cynap installati in tanti istituti d'istruzione leader a livello mondiale.
University of Westminster
Synchronous hybrid learning environments using Cynap systems
Heriot-Watt University
VZ-9.4 Visualizer systems take centre stage
London Business School
Impressive vSolution MATRIX active learning classroom installation
University of California, Santa Cruz
WolfVision Visualizers play key role in every classroom
University of Glasgow
Live imaging with an EYE-14 camera during online classes
University of Tennessee, Knoxville
Cynap systems transform classroom learning environments
BI Norwegian Business School
Visualizer systems - Built to last!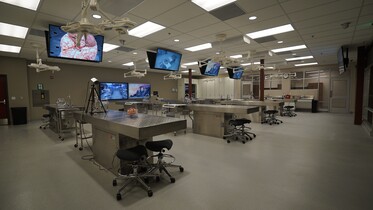 Idaho State University
EYE-14 Cameras at Meridian Health Science Center
Okayama University
Using Cynap systems for high performance multimedia streaming & recording
University of Oslo
Future-oriented learning at the Faculty of Law
Penn State University
VZ-C6 Ceiling Visualizer enables careful study of rare and fragile items.
San Diego State University (SDSU)
High quality imaging in the classroom
University of Siegen
VZ-C6 Ceiling Visualizer: Successful live imaging
Staffordshire University
Flexible teaching in active learning classroom with Cynap
Washington State University
Active learning classroom using Cynap
Kuwait University: Sabah Al-Salem University City
Essential Visualizer imaging in the classroom
University of Warwick
WolfVision Visualizers: Essential imaging in all classrooms
NUST (MISIS), Moscow, Russia
Cynap: The Centrepiece of the modern meeting room
Meiji University, Tokyo, Japan
WolfVision Visualizer systems: First-class imaging in lecture halls.
University of Idaho
Collaborative learning with VZ-C6 and Cynap.
EMSD Hong Kong
Cynap plays key role in state-of-the-art learning spaces
University of Edinburgh
VZ-C6 Visualizers in use during online and hybrid learning classes
City, University of London
Outstanding vSolution MATRIX installation
Tokyo Keizai University
VZ-3neo Visualizer - Saving space on the classroom lectern
University of Dundee, Scotland
Cynap plays key role in state-of-the-art learning spaces
Nagoya University of Arts & Sciences
Specialised learning environments with Cynap and Visualizer systems
University of Nevada, Las Vegas
High performance imaging in the classroom
HSPV NRW, North Rhine-Westphalia, Germany
State-of-the art learning spaces
University of Westminster
Collaborative learning spaces using Cynap and vSolution MATRIX
illwerke vkw energy campus montafon, Austria
VZ-8.UHD live imaging for new training centre
Testimonianze
What we have found, is that regardless of the size of the learning space the Cynap systems allow the student to become a real part of the class, not just a passive viewer.
Michael Berger
IT Manager, Office of Information Technology, University of Tennessee, Knoxville
Wolfvision is a small company. But they are serious, and deliver world leading products. They listen to their customers and when necessary, are able to make adjustments very quickly.
Tor-Arne Tømte
Senior Operations Specialist, BI Norwegian Business School
I do believe that WolfVision Visualizer Systems add real pedagogic value, and they have the flexibility to perform equally well, whether installed as a central component of a classroom AV solution, or as a highly portable, all-in-one stand-alone system.
Douglas Marsland
Head of Audiovisual Services, Heriot-Watt University
Contattaci