vSolution Link Pro
Professionelle Management-Software für Visualizer- und Cynap-Systeme
Die vSolution Link Pro-Software ermöglicht die Verwaltung aller vSolution Cynap- und WolfVision Visualizer-Systeme über mehrere Standorte. Folgende Funktionen sind enthalten:
Einrichtung lokaler Administratoren und Zuweisung von Geräten
Zuweisung von speziellen Namen, Gruppen und Standortinformationen für eine bequeme Geräteorganisation und -verwaltung
Aktualisieren der Firmware für ein oder mehrere Geräte
Ausrollen von spezifischen Einstellungen auf mehrere Cynap-Systeme
Sichern und Wiederherstellen von Cynap-Einstellungen ("Backup & Restore")
Vorlagen ("Templates") können zur einfachen Sicherung, Wiederherstellung und Bereitstellung auf mehreren Geräten erstellt werden
Überwachen ("Monitoring") der Status von Cynap- und Visualizer-Systemen
Exportieren Sie eine Inventarliste aller angeschlossenen Geräte als .csv-Datei
Die Benutzeroberfläche der vSolution Link Pro ist über einen beliebigen HTML5-Browser zugänglich
Verfügbar für Windows-Server, Windows 10 und macOS.
Für die Kompatibilität mit vSolution Link Pro, muss auf der Cynap/Cynap Core/Cynap Pure die Firmware-Version 1.32k (Erscheinungsdatum: 17.09.2019) oder höher installiert sein.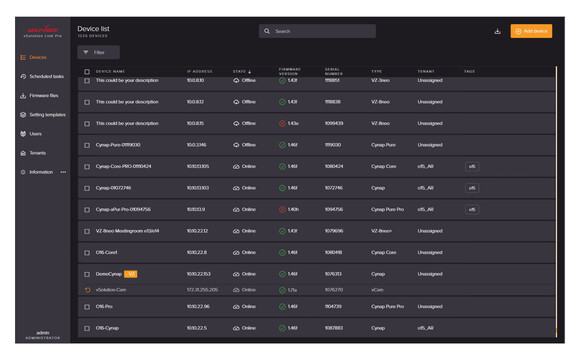 vSolution Link software (Legacy versions)
This legacy version software remains available for customers who require one or more of the following Visualizer features which are not currently available using the newer vSolution Link Pro software:
Save video files from the Visualizer onto a computer via USB and LAN
Remote control the Visualizer using the virtual remote control
Stream Visualizer images/video to the network
Annotation/overlay Visualizer images
vSolution Link for 32-bit Windows
Version 2.13.0.1 (released November 11, 2019):
System requirements: Windows 7, 8.1, 10
Optimized for Visualizers with USB 2.0 port.
Also supports USB 1.1
vSolution Link for 64-bit Windows
Version 2.13.0.1 (released November 11, 2019):
System requirements: Windows 7, 8.1, 10