WolfVision introduces Q-SYS vCore virtualized processor integration for Cynap Pro & Cynap Core Pro
Visit us on Booth 2934 at the InfoComm 2023 in Orlando, Florida, June 14-16th, to see us demonstrate how the Q-SYS vCore virtualized processor is easily integrated into WolfVision Cynap Pro and Cynap Core Pro systems.
Already a member of the Q-SYS Technology Partner Program, we are excited to show you how the pre-installed Q-SYS vCore software enables room control, automation, and remote monitoring to co-exist seamlessly together with our award-winning Cynap wireless presentation and collaboration systems. Hardware footprint is reduced, costs are lowered, and overall systems design is simplified.
The Q-SYS vCore virtualized processor is an outstanding room control platform, and this exciting new integration into Cynap systems greatly enhances Cynap's 'all-in-one' capabilities, enabling us to provide even more options for our customers.
Christian Loacker
Global Sales and Marketing Director
-
WolfVision
We've pre-installed the software as a separate container, and it is secure and ready for operation out of the box. It simply requires the dedicated use of the second Cynap LAN interface to function, plus a compatible Q-SYS vCore feature license. The dedicated IP address provides access to the Q-SYS Reflect remote monitoring and management platform (subscription sold separately, available through Q-SYS), and ensures that Q-SYS software updates can be applied as and when required, completely separately from WolfVision's own firmware updates.
With the software running on a Cynap Pro or Cynap Core Pro device, the Q-SYS system is easily controlled and operated, either directly on the Cynap, via a HTML5 web browser, or by installing a small Q-SYS TSC Series touch panel. In this way Cynap's multi-functional collaboration functionality, and the Q-SYS control platform can be conveniently operated using a single touchscreen.
Suitable for deployments of any size, Q-SYS vCore virtualized processor can be used to control a wide variety of enviromental devices such as audio, video, lighting, motorized blinds, thermostats, door locks, sensors, and security systems.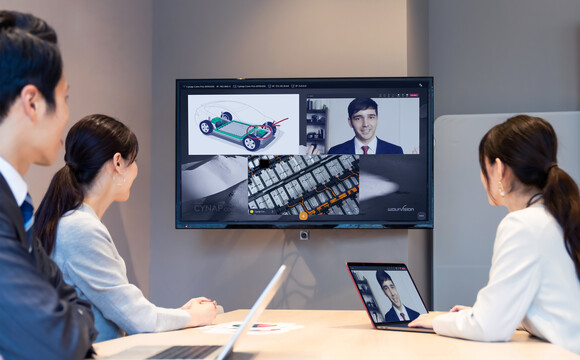 Contact us