Cynap firmware update – BYOM web conferencing
Firmware release v1.58 brings new features and functionality
Introducing BYOM web conferencing
Firmware update v1.58 includes the new BYOM (Bring Your Own Meeting) web conferencing solution. It enables Windows and macOS laptop users to connect wirelessly to a Cynap, plus connected camera, microphone, and speaker peripherals already installed in the meeting room, and run web meetings using any web conferencing service directly from their own device.
Available for models, Cynap Pure and above, the web conference is controlled on the PC, Cynap is controlled using the floating element in vSolution App. The floating element in vSolution App enables control of actions such as going full-screen, side-by-side, or switching windows.

Check the video to see exactly how it works.
Ideal add-on to Zoom Rooms / Microsoft Teams Rooms
A new improvement in firmware update v1.58 means that where a Cynap Pure Mini or Cynap Pure is connected via HDMI to an installed Zoom Room or Microsoft Teams Room, when screen sharing wirelessly to the Cynap, mirrored content will be presented directly into the web conference.
Content is automatically displayed on the second display screen, separately from the remote meeting participants. When screen sharing is finished, the Cynap HDMI connection turns off automatically.
WolfVision Cynap firmware v1.58 details
Release date: April 25, 2023
Cynap family firmware is updated regularly. New firmware version v1.58 for Cynap Pro, Cynap, Cynap Core, Cynap Core Pro, Cynap Pure Pro, Cynap Pure, Cynap Pure mini, and Cynap Pure Receiver contains the following improvements:
Added BYOM (Bring Your Own Meeting) web conferencing (Cynap Pure models and above)
Improved Miracast Low Latency handling
Added instant Output Off Mode (Cynap Pure/Cynap Pure Mini)
Added support to access Settings while in Screen Off Mode
Added support to configure Content Priorities for each HDMI Input (Cynap Pro/Cynap)
Added 1080pHD Resolution for Viewer Mode (Cynap Pure and above)
Added X-Large setting to display PIN and Connection ID
Added support to hide WLAN SSID from Statusbar
Added new default Background images
Fixed Miracast Device Discovery
Fixed possible boot issues
Added help file support for German language
Fixed Google Meet Screen share issue
System maintenance
New vSolution Link Pro Cloud
We will also shortly release a new version of our vSolution Link Pro remote management tool for Cynap and Visualizer systems. In addition to the existing on-premise installation options, vSolution Link Pro will also available for installation on a cloud-based virtual server (Microsoft Azure or AWS).
Ideal for use for example, in situations where IT infrastructure is outsourced, WolfVision remote management software can now be securely accessed from any location, providing greater flexibility and scalability for organisations. It is suitable for managing up to 5,000 WolfVision systems across multiple locations.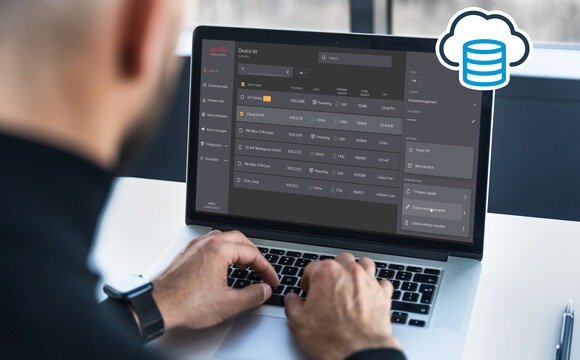 New version vSolution App
Among the many new features and improvements, the new version of vSolution App for Windows provides support for the new BYOM web conferencing feature for Cynap Pure systems and above (macOS version follows shortly).
Contact us