vSolution Cast: Screen mirroring for Windows devices!
Screen mirroring for Windows devices!
Using our vSolution Cast software for Windows laptops and tablets in combination with a Cynap System, enables screen content from these devices to be quickly and easily mirrored to a display screen. The software can be run either directly from the device or via a connected USB stick or external hard drive containing the file. No installation is required, and simply double clicking the file opens a window that offers simple 'play' and 'stop' functionality.
Recent Windows devices running Windows 8.1 and above can also connect to Cynap systems via Miracast. vSolution Cast overcomes the possible limitation under certain configurations of Miracast whereby mirroring could be limited to only one device at a time when Miracast Mice is not active. For increased security, use the vSolution Cast PIN which will be shown either in the status bar, or as pop-up message (depending on setting).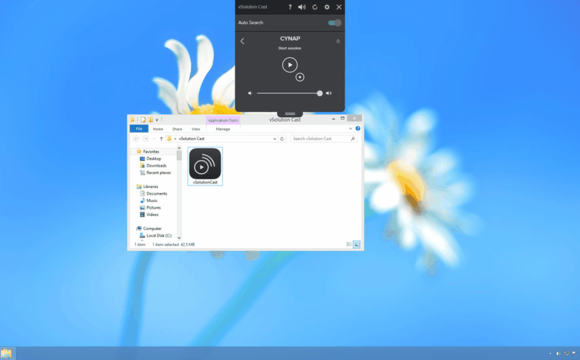 Key features
4K UHD screen mirroring from Windows laptops
Stream up to 4 Windows device screens to a Cynap system
When screen mirroring from a Windows laptop to Cynap systems, either a single window or the entire desktop can be shared onto the display screen.
Touchback functionality enables Windows PCs to be controlled via a touchscreen (mouse actions from Cynap are transmitted back to the PC (requires Cynap firmware v1.20 and above)
Easy to use
On-screen help
System Requirements
Minimum Windows 7 (running on officially supported hardware)
Old hardware may not offer sufficent performance
It is recommended to use an up-to-date version of your Windows operating system