Educación
Presentaciones en pantalla de alto rendimiento de material lectivo digital y analógico para el aprendizaje presencial, online e híbrido.
Imágenes flexibles para el aprendizaje en el aula y online
Los sistemas de visualizadores WolfVision son excepcionalmente fáciles de usar. Se usan a diario en universidades y otras instituciones educativas de todo el mundo para reforzar las habilidades y esfuerzos del personal docente a la hora de comunicar y establecer conexiones importantes con los estudiantes, tanto en entornos de clases presenciales como de aprendizaje online.
Soluciones de colaboración de red AV en el aula
Mediante el uso de la tecnología AV sobre IP innovadora se están creando nuevos y emocionantes entornos de aprendizaje de alta tecnología, como nuestra solución de colaboración de red AV en el aula vSolution MATRIX.
Esta solución de costes eficientes utiliza múltiples sistemas Cynap para crear espacios de aprendizaje activo flexibles en los que tanto estudiantes como docentes puedan acceder, colaborar y compartir información digital de todo tipo de cualquier fuente y, en particular, de forma inalámbrica desde sus smartphones, tablets y ordenadores portátiles personales.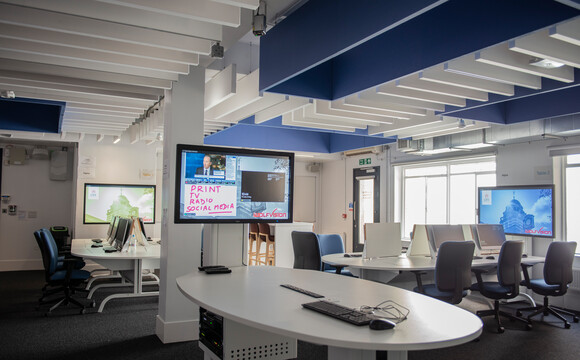 Estudios de casos
Eche un vistazo a nuestros estudios de casos con nuestros sistemas de visualizadores y soluciones de presentaciones y colaboraciones inalámbricas Cynap, instalados en muchas de las instituciones educativas líderes del mundo.
illwerke vkw energy campus montafon, Austria
VZ-8.UHD live imaging for new training centre
University of Westminster
Collaborative learning spaces using Cynap and vSolution MATRIX
HSPV NRW, North Rhine-Westphalia, Germany
State-of-the art learning spaces
Loughborough University
In-person, remote, and hybrid learning using WolfVision systems
Nagoya University of Arts & Sciences
Specialised learning environments with Cynap and Visualizer systems
University of Nevada, Las Vegas
High performance imaging in the classroom
University of Edinburgh
VZ-C6 Visualizers in use during online and hybrid learning classes
University of Westminster
Synchronous hybrid learning environments using Cynap systems
University of Dundee, Scotland
Cynap plays key role in state-of-the-art learning spaces
University of Glasgow
Live imaging with an EYE-14 camera during online classes
University of Oslo
Future-oriented learning at the Faculty of Law
London Business School
Impressive vSolution MATRIX active learning classroom installation
Okayama University
Using Cynap systems for high performance multimedia streaming & recording
City, University of London
Outstanding vSolution MATRIX installation
University of California, Santa Cruz
WolfVision Visualizers play key role in every classroom
University of Tennessee, Knoxville
Cynap systems transform classroom learning environments
Staffordshire University
Flexible teaching in active learning classroom with Cynap
Tokyo Keizai University
VZ-3neo Visualizer - Saving space on the classroom lectern
University of Siegen
VZ-C6 Ceiling Visualizer: Successful live imaging
San Diego State University (SDSU)
High quality imaging in the classroom
BI Norwegian Business School
Visualizer systems - Built to last!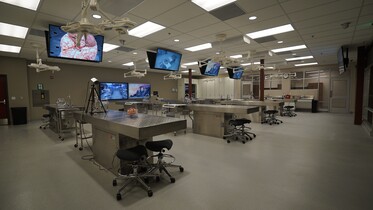 Idaho State University
EYE-14 Cameras at Meridian Health Science Center
Kuwait University: Sabah Al-Salem University City
Essential Visualizer imaging in the classroom
NUST (MISIS), Moscow, Russia
Cynap: The Centrepiece of the modern meeting room
Meiji University, Tokyo, Japan
WolfVision Visualizer systems: First-class imaging in lecture halls.
Penn State University
VZ-C6 Ceiling Visualizer enables careful study of rare and fragile items.
University of Warwick
WolfVision Visualizers: Essential imaging in all classrooms
Washington State University
Active learning classroom using Cynap
University of Idaho
Collaborative learning with VZ-C6 and Cynap.
Heriot-Watt University
VZ-9.4 Visualizer systems take centre stage
EMSD Hong Kong
Cynap plays key role in state-of-the-art learning spaces
Testimonios
What we have found, is that regardless of the size of the learning space the Cynap systems allow the student to become a real part of the class, not just a passive viewer.
Michael Berger
IT Manager, Office of Information Technology, University of Tennessee, Knoxville
Wolfvision is a small company. But they are serious, and deliver world leading products. They listen to their customers and when necessary, are able to make adjustments very quickly.
Tor-Arne Tømte
Senior Operations Specialist, BI Norwegian Business School
I do believe that WolfVision Visualizer Systems add real pedagogic value, and they have the flexibility to perform equally well, whether installed as a central component of a classroom AV solution, or as a highly portable, all-in-one stand-alone system.
Douglas Marsland
Head of Audiovisual Services, Heriot-Watt University
Contacto